John Pullam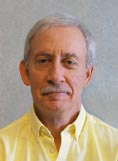 John began his career with Sears Canada in Toronto. He held numerous assignments in the Information Technology organization, including National Manager of Data Centres, and National Manager of Systems Development. In 1992, he joined Sears Canada's Strategic Planning organization and helped develop the Company's highly successful procurement reengineering program.
He led Sears Canada's electronic retailing activities from their inception, developing the business case, selling to senior executives and ultimately launching sears.ca in August 1996. He directed the development of all of the functions and capabilities provided, including on-line ordering linked directly to Sears' back end catalogue fulfillment systems, an on-line gift registry, and a robust major appliance web site featuring over 1300 products. Under his leadership, Sears Canada was consistently ranked as the number one retail site in Canada by industry consultants such as Deloitte, Canada and Forrester Research, and was reported as the country's most visited retail website by organizations such as comScore Media Metrix.
John took an early retirement from Sears Canada. He is now President of McLean Systems Inc., a company which he established to consult on Information Technology and Electronic Commerce.
John has a Bachelors degree in Industrial Engineering and a Masters degree in Electrical Engineering from the University of Toronto, and is a member of the Professional Engineers of Ontario.