Our Beliefs
We build practical, functional websites that serve real customers. Unlike some developers who get sidetracked trying to create "cool" sites, our priority is to get results for your business. This is how we do it.
Design for the customer
Websites are a "pull" medium where customers make the decisions. If they don't like something, your competition is only one click away. So planning your design for the customer is the only sensible thing to do. You'll have plenty of opportunity to add your sales messages later.
Keep the language and layout simple
Customers don't read websites the way you read a book. They skim, beginning at the upper left corner. It's best to communicate in small chunks, using point form if possible. Use images to convey more complex ideas and to break up the messages.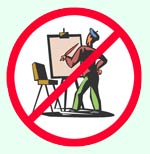 Don't let artwork get in the way of your content
Websites need to be attractive, but they shouldn't try to be works of art. Too often, hours are wasted creating original art, when the result only gets in the way of the content. Successful websites find the balance between text and over-the-top graphics.
Use industry standards and conventions
How would you react if you went to a store and couldn't find the front door or the products for sale? You'd probably leave. How do you think your customers will react if they can't find the material they want on your site? It's important to follow the de facto web design standards (e.g., navigation scheme, logo positioning, etc.) You can't get results from people who can't find what they want.
The web is not a magazine advertisement or a printed flyer
Would you create a TV commercial by having someone read a radio commercial in front of a camera? Then why design a website as if it were a magazine advertisement? Each medium has its own attributes—the messages need to be consistent, but the layout and presentation should be adapted to each medium you use.

The home page is a special place
The home page has three important roles:
to reassure customers they are in the right place (you have about 5 seconds to do this)
to introduce the navigation scheme for the website
to give search engines the words they need to index your site properly
Do the basics right
Customers want a fairly predictable set of things. Make it easy to answer these questions:
What are your products or services?
In what geographic area do you do business?
What do your products and services generally cost? (If you can't be precise, give some rules of thumb.)
Who are you? (Where are you located, how long have you been in business, etc.)
To quote Mark Hurst of Creative Good, "The Web business isn't about 'wow' versus anything else—it's about which companies address customers' basic unmet needs the most. If it comes packaged in a 'wow' interface, so much the better—but that's not what keeps people coming back, and referring their friends."